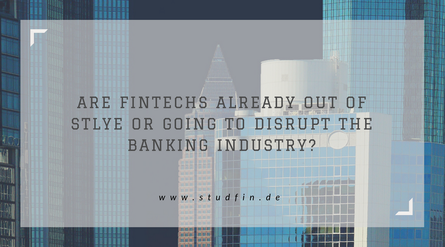 The buzzword Fintech seems to be almost out of date and super relevant at the same time because I think, it's shaping an industry that hasn't changed a lot in the past decades. 
The new buzzwords seem to be RegTech and InsurTech. That are companies that make insurance and regulations easier and cheaper. 
In this article I write about:
Millennials that are more skeptical towards financial institutions and technology driven than ever
There are huge investment into Fintechs but they start declining
Why banks and Fintechs need to cooperate
What are the hottest Fintechs? One of them is myfin! 
The financial industry behaved like the retail (book) industry used to. Many old businesses that have been following the same business plan for decades, enjoying the calmness und easy profit of the industry, until Amazon emerged and erupted an entire industry. I have the feeling that Fintechs could do the same thing because the big banks have been pretty comfortable for the last years and lost their focus on costumer and innovation. Now one can say "the poor bookstores and I loved going to book stores." Alright, when was the last time you bought a book in a store and when was the last time you bought something on Amazon? 
Of course, we all like bookstores and I am more than sorry for anyone that has lost a job. Furthermore Amazon has probably not paid enough tax, treated employee badly and so on and so forth, but let's face it: That is how our world works! Mostly we do what is the most convenient and cheapest for us. A book coming directly to you and being cheaper as well, why wouldn't you buy it on Amazon? 
The world changes! When was the last time you see a horse wagon? Think about all the coachman that have lost their jobs due to cars, but should we bring back horse wagons? No, things have developed! Now we have cap drivers and probably soon only uber driver and self-driving cars! We need to see changes and adapt to them because they offer us incredible chances. Imagine you are an author with a small budget. Nowadays you can go to Amazon and print on demand, no capital or storage needed! The books gets only printed, when someone orders it. Isn't that a great opportunity?  
Now lets go back to Fintechs
Their target group "Millenials" will grow as well as their savings accounts and they are looking for a new kind of partner
(Facebook IQ, Millennials + Money: The Unfiltered Journey, January 2016 <https://fbinsights.files.wordpress.com/2016/01/facebookiq_millennials_money_january2016.pdf>, p. 3.) and their savings accounts and demand for financial services will grow.
The Fintech industry has been suffering a little bit in Q3 2016, due to a smaller number of significant investments and financial uncertainty worldwide, caused by the American election and the Brexit (KPMG, 'The Course of Fintechs, Q3 2016, KPMG and CB Insights', 2016, p. 3.)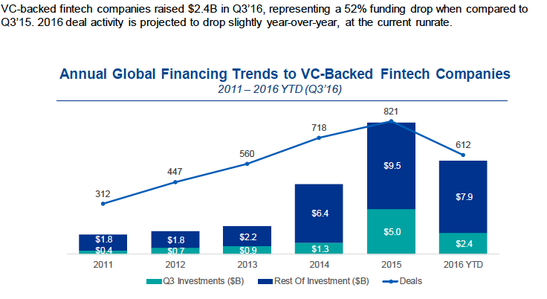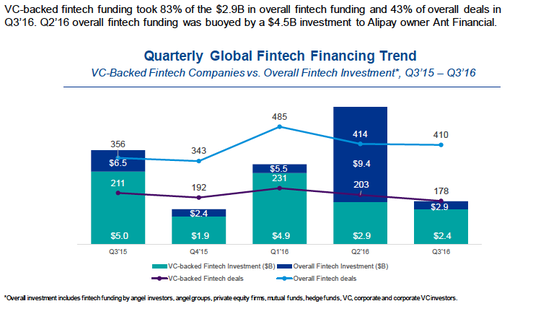 The Fintech spectrum is quite big, ranging from Bitcoin technology, InsuTech, Lending, Payment, Wealth Management, Investments, Robo advisor and everything you can think off, is probably covered by a Fintech somewhere. 
North America's investments into Fintechs has fallen below $1B. That is a 68% funding drop, compared to one year ago (KPMG, p. 3.). European Fintechs funding also fell 43% to $233M distributed across 38 deals. Only good old Germany is investing more and more money into Fintechs, especially investing into Smava (compares credits) and FinanceFox (InsurTech).  
"In Q3 2016 VC-backed fintech companies raised $2.4 B across 178 deals. Overall investment reached $2.9 B." (KPMG, p. 8.). 
I think that investments down, because it is not the hottest topic anymore! A year ago you could have said you are doing something with Bitcoins or Fintechs and people would have drowned you into money, even though they didn't understand the background or the technology. I also talked to a Venture Capitalist this week, and they say that they have been investing a lot into Fintechs, but now they are slowing down and are a lot more careful, waiting for an idea that is completely disrupting or changing the way insurance are being sold or money is being spent. 
Nevertheless, the outlook seems to be positive because current uncertainties will settle eventually and I believe that the big banks will soon be afraid that their business models are in danger and we will see many M&A (they buy Fintechs so it becomes part of their company). 
So the banks are going to cooperate and buy these new technologies because it is easier than developing them themselves. Most money still comes from Venture capitalist, so the market could get a lot bigger if financial institutions start with Mergers and Acquisitions.
The most major investments into Fintechs: Asia is definitely dominating the top, as well as payment and lending systems. They raised the most money.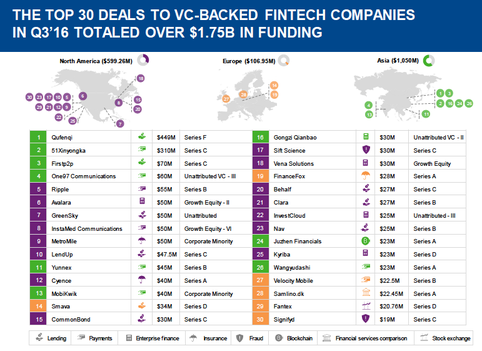 A report written by Accenture, a big consulting company, states that banks need to challenge their business model to get closer to the clients in the long term.('Fintech and the Evolving Landscape - Accenture' <https://www.accenture.com/us-en/insight-fintech-evolving-landscape> [accessed 27 November 2016]. ) I believe that is a  not a long-term development, but will happen rather sooner than later.  
What are the hottest American Fintechs that won prices at FinovativeFall, which is a huge competition for FinTechs in New York. Avoka for business transactions, Overbond for cloud-based communication between bond dealers, Sinedo a mortgage place, MX for financial management and transactional banking ( you find all oft hem under https://www.cbinsights.com/blog/finvoate-fall-fintech-startups/). Under this link you find the most important and hottest Fintechs. https://h2.vc/reports/fintechinnovators/2016
MyFin
Myfin is a Fintech that got accepted into the TechStars NYC Accelerator Program. It wants to provide its users with an easy financial overview and show them ways to make the most of their money. Myfin links all accounts together (through an API), whether it's a bank account, investments, Venmo, credit card or loans, so myfin has a perfect and comprehensive overview of their overall finance.
Myfin has definitely the chance to evolve into a successful business, because Fintechs have been on the rise and they will play an even bigger role in the future. Financial institutions will need to cooperate or buy Fintechs in order to provide the best service for their clients. The financial markets including banking and investing are highly liquid markets with big margins and the potential of their target customers (Millennials) is huge as well. They also have various option to expand, develop and scale their business as well as promising long term goals.
The big problems they are going to face are regulations, building a strong brand that customers are going to trust and protecting and differentiating themselves from the competition.
I visited the myfin Team at the TechStar office to interview them and get a better picture about their plans for generating revenue, the product and the team. As a member of the Techstar community I hardly met a founder like Nathaniel Harley that is so dedicated, with a long term focus on the one hand and so open, realistic and smart on the other hand.
The team not only visited great schools, but have former Goldman Sachs and startup experience, so they know what it takes to be an entrepreneur and have a strong power of endurance and work ethic. Nathaniel wants to start with a product that shows all your financial activities, add a capital manager and payment system and evolve into a bank ultimately. Having all this data gathered together they can offer well-tailored products to its customers, generating money the same way banks do. Nathaniel has an extensive knowledge of how banks operate and is willing to build up a sustainable company instead of making money quickly.
So especially my American friends should check out their website and register to try their beta version. Let myfin help you to get ahead of your finance and reach your saving goals. It is easy, saves you time and money and the myfin tank is pretty cute.
The hottest German Fintechs
The following 10 German Fintech Startups made it also into the Top 100 List:
(http://fintechnews.ch/contests/european-fintech-awards-and-conference-top-100-startups-2016/2777/)
Ascribe, a BigchainDB and Scalable Blockchain Database Builder;
Friendsurance, a peer-to-peer insurance startup from Germany;
GetSafe, a German insurtech startup that provides an app to manage all insurance policies;
Kreditech, a technology company based in Hamburg that develops custom-tailored financial services with a focus on unbanked consumers;
Mambu, a Berlin-based startup that provides banking institutions with an agile cloud banking platform to create, launch and service loan and deposit products;
Number26, a Berlin-based challenger bank that aims to revolutionize the traditional banking industry;
Spotcap, a Berlin-based online lender for small and medium-sized enterprises;
TraxPay, a payment platform for 24/7 B2B real-time transactions.
Wikifolio, an alternative investing startup from Austria and is also active in Switzerland;
Where I also see an emerging market are robo advisor so computer Programs that do the trading for you and invest your money. They can calculate and evaluate things that happen quicker, cheaper and are being objective but they can also don't always see the big picture and connect information as well as humans do. 
I also went this week to an event called "Future if Money – Cybersecurity in Fintech." Great event, interesting panel, and the key message were: Fintechs need to win trust, and they need to secure this trust otherwise their destroy themselves and the chance to cooperate with the big player. The earlier they include a good security system, the better, but they also need to work on branding and marketing now to scale their operations and develop a reliant customer base. 
Conclusion
In conclusion on can say that Fintechs are erupting the financial sector, where many well-established institutions became way too comfortable, not spending too much attention to their customer and the digitalization. Right now Fintechs are only serving a small market share, compared to the big institution and their margins are way lower, because they try to beat the prices, which makes them sensitive to their environment. They could not stand price wars against the big players, but if both would cooperate they would benefit tremendously and we as customers as well. Especially in times of low-interest rates and people losing trust and faith in the financial system, banks need to change, be more innovative and closer to their customers, especially to the Millennials that are more skeptical and technology driven than ever.